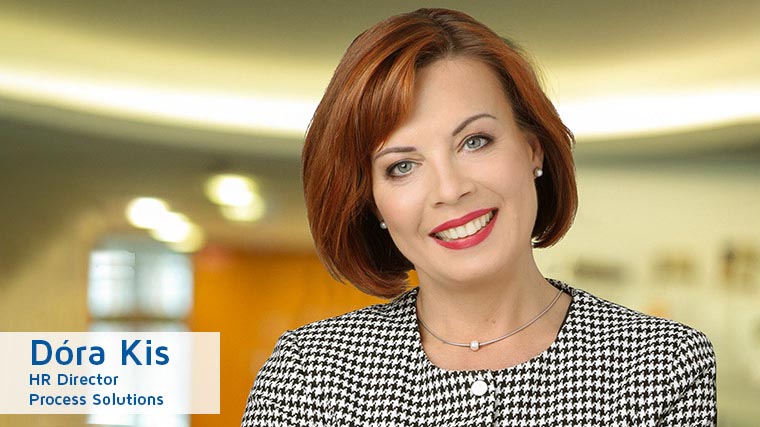 COVID-19, pandemic, crisis management, adaptation HR operation, B2NN, back to new normal
Changes along the entire employee life cycle
I think it's not new to many companies that due to the impossibility of physical encounters, HR tasks had to be solved electronically within the company as well. In the process, we also digitized many things we could have done earlier, but since they weren't vital, we waited with them. But the situation, like in any other company's case, has forced us to make rapid progress.
Our recruitment process changed as a result of the epidemic as follows:
 Fully online recruitment and selection have been introduced: the recruitment of colleagues started earlier with online pre-screening, but now the entire interview process takes place on a video platform.
A new digital test suite has been developed for recruitment, which measures a system of requirements tailored to each position.
A new colleague only needs to show up in person at the PS office once after hiring, where the employment contract can be signed by the new joiner in a safe envrionment and the take over the tools needed for work can take place without physical contact.
Online onboarding is here!
Following the recruitment, the training and the integration of our colleagues have also changed fundamentally in recent months:
New entrants receive the necessary training almost completely online. More and more elements of the "New Joiner Training", a 40-module training series, can be acquired as e-learning.
Several professional internal trainings and further external trainings take place as e-learning.
We develop and operate e-learning training program through the Skillnaut system.
External training has also been transformed, including a series of training for senior staff, the "Senior School". This training, which focuses on leadership skills, was executed online this year.
Digital day-to-day operations and labor administration
PS has also greatly digitized the day-to-day operations and labor administration as a result of the epidemic. As part of this, the following changes were made:
Employment contracts signed by the employer can also be accepted in digital form.
Employees receive documents such as bonus notices in electronic form.
The performance evaluation takes place online.
All corporate discussions have been moved to the Microsoft Teams interface, including monthly regular coaching and other supportive discussions.
Our renewed professional knowledge-sharing "Subject Matter Expert Portal" has been launched, offering interactive opportunities to discuss case studies, and analyze and jointly solve professional problems in the form of chats, forums, and publications.
In addition to the day-to-day administrative workflows, internal communication has largely been transferred to the online space.
The former "All Meetings" with all staff now also take place at Teams.
Promotions are also celebrated online.
We send virtual announcements on a weekly basis.
Colleagues are kept informed of the health status of team members, respecting restrictions coming from GDPR rules.
The corporate intranet is constantly evolving.
Microsoft Teams interface has become the standard at our office, all employees use it.
The exit process has also changed
If a colleague leaves our team, we will arrange the exit process electronically as much as possible and also ensure that the work equipment is handed over contactless. Exit interviews have also been moved to the online space.
The lesson ­ "Nothing is impossible"
We believe that at PS, we were able to meet every challenge as best as we could and our colleagues set an example in this difficult situation. If the situation forces it, all change can be accelerated, and projects that seemed difficult and complicated in the past can happen almost overnight. In this whole process of change, the dedicated task force that we set up at the beginning of the epidemic, and which has been working ever since, played a key role – we owe a great deal of gratitude to them!
We launched our COVID-19 blog series to share our experience gained so far during the COVID crisis and our views on business changes in the world.
We are confident that this will help our readers to get beyond the crisis with the least possible loss and to get straight ahead as soon as possible, strengthened.
Previous post starting our pandemic blog series: COVID-19, the invisible factor irrevocably transforming the world—the launch of a Blog Series