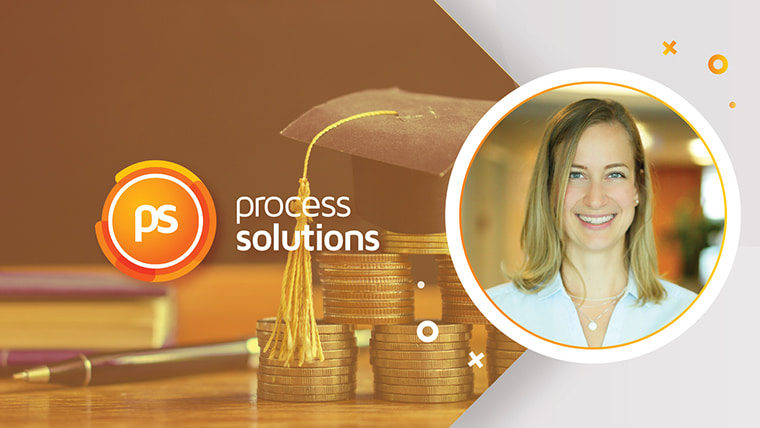 Adult education scholarship program, Payroll Scholarship Program, Professional Life at PS
The program is presented by: Adriána Kormos, HR expert at PS Hungary
The two main activities of PS are accounting and payroll outsourcing services, typically provided for multinational companies that have high quality expectations towards us. Thus, in the work of the HR team of PS, successful recruitment and development programs are of paramount importance!
In the field of payroll, more and more people are choosing adult education institutions instead of or in addition to university studies, where in a shorter period of time, those who imagine their future in the ever-evolving payroll field can acquire sound knowledge with practical focus.
It is worth paying special attention to this area also because, on the one hand, the payroll business of Process Solutions is growing dynamically, and on the other hand, as the effect of the Covid years, an increasing number of people prefer more predictable professions that provide long-term security. Payroll is such a profession because it has always been and will always be needed! Moreover, good payroll specialists are becoming increasingly sought after, which is understandable, since PS itself is planning to increase the number of employees by 10% in its Payroll Division in the next semester!
Who is the PS Payroll Scholarship Program a good opportunity for?
Our latest experience in payroll shows that, in addition to the fresh-outs and trainees, those who are shifting their career and belong to the Y generation represent an increasingly large group. We would like to address them with the scholarship program.
Why is it worthwhile for PS to invest in this support?
Because we have a particularly good experience with our Y-generation career shifters! Although career modification is always accompanied by an increased sense of uncertainty – and this is often felt in interviews with them – they are already very committed to the job even during the training period.
Where can the scholarship be used?
In connection with the Payroll Scholarship Program, we currently cooperate with 7 adult training centres in Budapest. We hope that the scholarship will provide significant assistance, as PS can provide half of the tuition fee for the supported courses to students who successfully complete the selection process.
How is selection made for the support?
To enter the scholarship program, we assess the motivation of the applicants and their commitment to the profession through an interview
What further opportunities do we offer to help our employees develop?
It should be pointed out that we not only support institutional learning financially, but also offer flexible working hours on an internship level, so learning is easily compatible and balanced with work.
In addition to comprehensive professional training, Process Solutions places a special emphasis on the preparation and availability of training modules supporting the development of the so-called "soft skills". Our staff can complete up to 60 trainings until they become a senior or manager employee. Our continuous development programs therefore help us to ensure that our colleagues, who are promoted to middle or senior management positions – in addition to having gained a high level of professional knowledge and experience – are as well prepared and confident as possible in their individual competencies as head of their team.
These were the key features of the PS Payroll Scholarship Program!
If you are interested and would like to learn the ins and outs of the payroll profession, browse our website to find out what career opportunities PS offers!
Check out our payroll job ads at PS HU career website!
Submit your application to Process Solutions, the third largest payroll service provider in Hungary and benefit from our unique development programs to build your career!