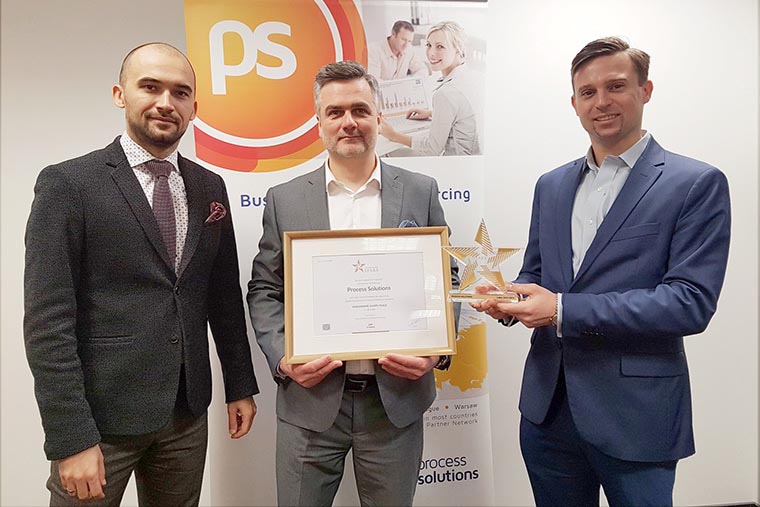 Process Solutions Poland, The Fastest Growing Accounting and Payroll Company, Outsourcing Star Award
Outsourcing Stars Gala is a unique international event for the modern business services industry that rewards the fastest growing companies and industry-based environmental organizations that support them. The sixth gala of the Pro Progressio Foundation is the only non-commercial competition for the modern business services sector in Poland, where prizes are awarded to the companies for operational development. For the networking, art and business event, the leaders of the BSS (business services sector) came from Poland, Europe and many parts of the world.
Andrew Majlath, the Managing Director of PS, said: "We are proud that Process Solutions Poland, one of the Group's key coordination centers, has achieved such success in the outsourcing market. The prize is a guarantee for our international clients that they can receive our services in the same quality across Europe. "
The award was taken over by the head of the Warsaw office, Tomasz Takiel, who has been affirming the Polish team of Process Solutions for over 10 years. "The Fastest Growing Accounting & Payroll Company of the Year 2018 is a recognition that not only confirms us that our persistent work in the development of PS over the years brings real results but also encourages us to pursue new goals in the future" – he said.
Other publications:
Pro Progressio Foundation: Outsourcing Stars have flashed in the city of Lodz
Outsourcing Journal: Outsourcing Stars Gala Poland – 2019 Winners
Former PS news:
2016: PS Group was named WINNER of the 'Most Unique Services Provider – CEE' award