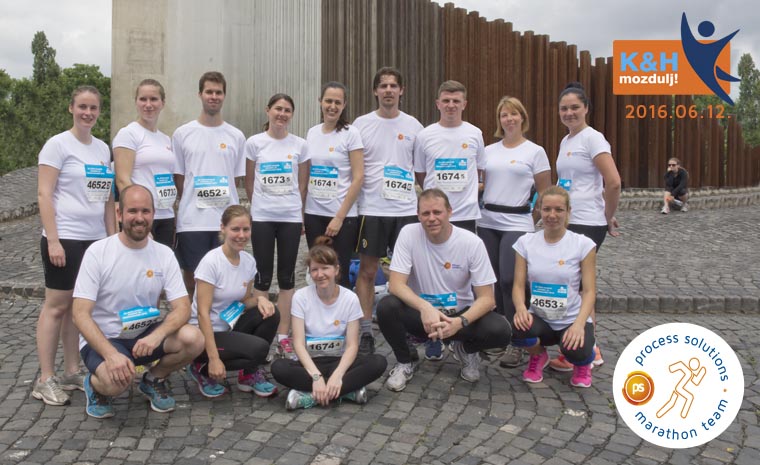 HR, Marathon running, K&H mozdulj! Budapest, Process Solutions Marathon Team, healthy life, Social life at PS
These were our initial thoughts when we decided to participate in the K&H mozdulj! 2016 half marathon relay. OK, but to do so, we needed to set up a team since running alone a half marathon is a real challenge…  So, let's team up! Three of us decided to take the chance and take the first step towards this goal: we made a team, with passion, enthusiasm and a strong commitment which sounds like this: YES, we can and we will do it!
Running a half marathon requires practice, even in if you do it a team, therefore we decided to exercise regularly and face the nice Margit Island running court after work to build and strengthen our muscles, our stamina and – most importantly – to have fun. Even on our last training day, when we got torrential rain trying to curb our enthusiasm – it only helped us accelerate and take quicker steps towards a shelter – we remained enthusiastic and committed to our final goal. On our last training day, we also got some supporters from other members of the payroll team, two of our colleagues also joined, having a chance to enjoy the team spirit (but not the rain).
Finally, the day of the challenge arrived. We have to say though, that the PS Outing (a 2-day event organised by our company), which was only one day before the race, raised a question whether we can do it with so few hours of sleep?  Seeing, however, the thousands of runners, the colleagues from other divisions who also made teams, quickly blew these negative thoughts away and we could hardly wait for the clock to reach zero…
And yes, finally we all did it! We have defeated the pain, we have beaten time (under two hours as a team, we set this time as our goal at the beginning) and we overcame our doubts.
All in all, we had a marvellous time together and decided to continue what we have just started: Running – as a team,  having fun together – as colleagues, leading a healthy life – as a human being and – most importantly –, enjoying what we do!
The Process Solutions Payroll Running Team