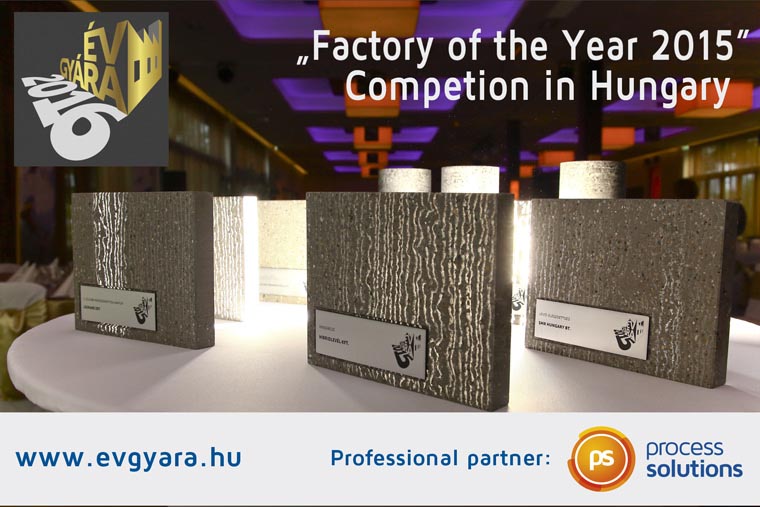 Factory of the Year 2015 Award in Hungary, Év Gyára 2015 Díj
In autumn 2015, Process Solutions Hungary (PS) was invited by Professional Publishing Hungary (PPH) to be the professional partner of the "Factory of the Year 2015" award, following the footsteps of the German version, announced among the Hungarian located factories for the first time in Hungary.
Applicants could submit their application forms in seven categories (Best management processes, Most innovative manufacturer, Best manufacturer, Most efficient supporting functions, Customer satisfaction, Employee satisfaction, Best supplier relations) in each a winner to be delivered.
Besides, based on applicants' overall performance "Factory of the Year 2015" awards could be won in three turnover categories (small:<3 billion HUF; medium sized and large: >10 billion HUF).
Despite 2015 was the first year of the competition, it was subject to a quite high interest, 51 applications were received in the seven categories.
The competition was a two stage competition.  In the first stage factories completed a questionnaire – asking for general company and category specific information – prepared by PS and PPH in cooperation. Participants could decide which category they apply for but at least 3 completed categories and one category winner position could enable them to win the Factory of the Year title.
Closing the first section, PS evaluated the questionnaires based on pre-agreed methods and generated the shortlist – listing the first three factories with the highest scores in each category – which was published by PPH on the official website of the competition.
In the second stage PS' project team and the representatives of PPH visited the shortlisted factories in order to get an on-site impression on the factory itself and the production processes in addition to verify the information provided in the questionnaire. During the site visits PS project team interviewed the heads of the departments (especially those on the shortlist) who provided information in the questionnaire to obtain a better understanding of the latest achievements and developments of their operation in 2015.
After having evaluated the second stage, PS summarized the scores and prepared the summary memo of each factory. In the end of April 2016, PS presented the results to the jury (13 members, delegated by Ministry of National Economy, several professional associations and managing directors of the top sponsors) who made the final decision on the winners of the categories and the Factory of the Year Award.
The award ceremony took place in Budapest on 13th May 2016, where PS project team was also represented.  Photos can be found on the official website (www. evgyara.hu) and details of the "Factory of the Year 2016" award will be published soon.