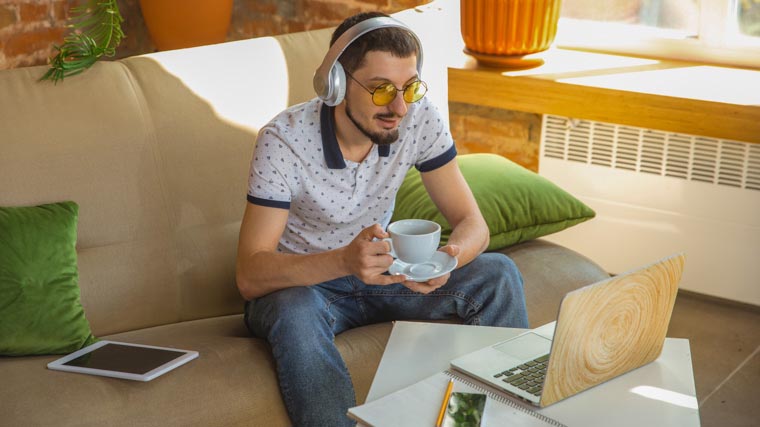 COVID19, sustaining business continuity, health protection, transition to home office, professional change management, professional life at PS
However, we are proud to say that the PS team has successfully overcome the obstacle and the safe and continuous service of our customers has become manageable without interruptions during these extraordinary times. It is our shared responsibility to save important lessons from the situation that will make it possible to work even more efficiently in the future.
In the spirit of this, we would like to share with you a short interview with our colleagues Endre Gáll (Chief Information Officer),  Tibor Tóth (Partner) and Judit Varga (Senior Manager) about how PS completed the home office transition.

When you see at the end of February that it would soon be necessary to work from home, a lot of companies that used desktops were almost standing in line for laptops to make the transition to home office mode. This was not a problem for PS, but what was the biggest challenge in the first phase of the transition?
Endre Gáll: The biggest challenge was that hundreds of colleagues had never tried to access our systems at the same time from afar, so we did not know if the servers and networks would be able to handle the high workload. A significant proportion of our colleagues have never worked in home office, so they first had to create the users for two-factor authentication and were also taught the tricks of remote access during a training session. We prepared guides, and in two days, we organized classroom workshops for about 20 groups in two locations.
Returning to the technical background, we performed a significant expansion of internet bandwidth, multiplied the resources of our terminal server, created a new address that allowed more than 300 people to connect to a VPN at the same time.
The idea of home office has emerged earlier as an opportunity and there has been a lot of talk about its continuous expansion at our internal events. In March, however, there was not much time for thinking and testing. Did the process cause any difficulties? How much did you have to change the processes because of the transition to the home office mode?
Endre Gáll: So far, our processes have been designed for office work, we have worked with printed documents. Customers were asked to send scanned certificates from now on. Most of them were open to this, which greatly facilitated the transition. Of course, despite this request, we still receive postal letters in our office, and we have set up an internal scanning team to process them, who are responsible for delivering the mail to the specific customer teams.
Judit Varga: There are several documents related to payroll accounting that must be kept/issued as original documents because according to legal regulations or other regulations, the digitized version has not been accepted. A typical example of this is the accounting of sick pay certificates, the issuance of certificates for leaving workers, or the preparation of income certificates. As a first step, we listed all the document types that we are currently receiving in the original versions and indicated which procedure we are proposing, and then negotiated it with our clients. Fortunately, in the current situation, they were also very cooperative, so there are only a few documents left that we can only temporarily digitize and we will need the original versions later. This is also a guideline for the future, as to which documents can be the ones which we only need to receive and forward electronically to our customers in the future – thus making the processes more efficient.
What was the biggest challenge in the way of communication with clients?
Tibor Tóth: We need to know our clients personally, to meet them regularly and to discuss open issues. These face-to-face meetings were transferred to another platform, to the online space (Teams, Skype). Of course, these platforms cannot fully replace the effectiveness of face-to-face meetings, as everyone works according to a tight agenda, where one discussion follows the other ones.
Rather, I saw the challenge in the fact that the limited time frame and the virtual dialogues can make communication more difficult.
What kind of additional demands has emerged from customers?
Tibor Tóth: In the current situation, we have received numerous new requests from our customers, and they asked for more frequent sending of their previous cash flow, open supplier and customer reports so that they can make a more considered decision in the given situation and they can better monitor receivables and intervene if necessary.
What we are seeing now is that there is an increased demand for consultations from our clients.
From legislation, we can call the last 1.5-2 months very busy, the changes also have a great impact on our profession, as in addition to the tax laws, the accounting law has also changed. Our customers mainly ask us about these changes, how they can take advantage of the individual discounts, and what the changes in the legislation mean and how they affect their economic operation.
Are there, and if so, what are the process transitions that PS will keep in the future compared to previous practices?
We expect that we will never get back to the same operation we started from. We are constantly working to ensure that the recovery can be performed with the least possible friction. It seems certain that modern digital solutions will play a more important role for all companies in the future – it will not be any different in the case of PS. Of course, there is still a long way to go before we can process digitally received materials as efficiently as possible. Improvements are planned to enable the automatic transmission of incoming documents to customer teams and to ERP systems that process documents. The aim would be to minimize the need for human intervention during the processing of documents.
In general, what positive benefits can home office bring in terms of processes and operations?
Endre Gáll: The use of surfaces such as Teams undoubtedly increases the possibility of collaboration within our teams. It allows faster, easier flow of information. "Practicing" the home office can also bring us the opportunity to work with people in the future for whom office work is not possible.