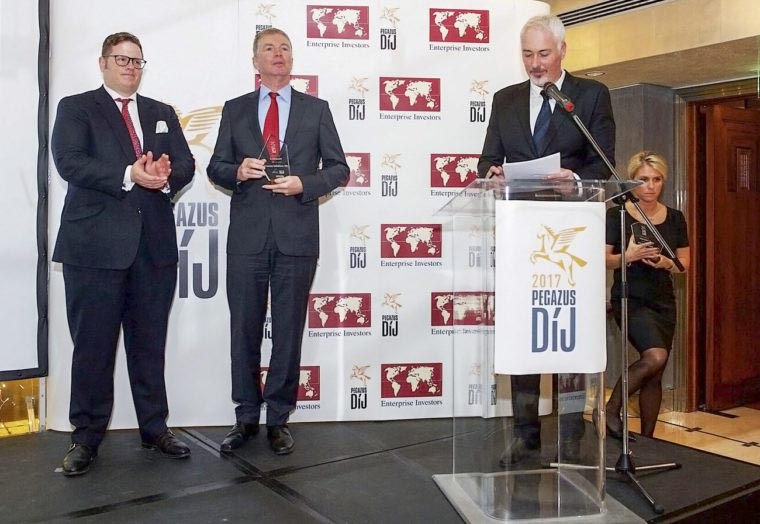 Pegazus Award, Professional life at PS
Based on our results in 2017, we are among the three most dynamically developing companies in the Central Hungarian Region. The award was announced on 5th December 2017 at Four Seasons where Péter Tímár, Senior Manager of Process Solutions Hungary represented the company and accepted the award.
"It is a great honor for us and we are very grateful to the jury for selecting our company for this award. Beyond our achievements this award will remind us that we are on the right track to achieve our vision of becoming the most recognised finance and accounting service provider of International Companies on Central Europe's business outsourcing market. This is a token of our past efforts and also a push factor for our future endeavors."
The Pegazus Award 2017 was founded by Enterprise Investor, one of the largest private equity and venture capital firms in CEE, the Bisnode, one of Europe's leading digital business information provider and the Dentons law firm.
It is great appreciaction for the efforts of our team as during the last 4 years, the Pegazus prize was the third award granted to us by juries.
Firstly the Award of "Financial and Accounting Outsourcing Star of 2014"was given to PS in recognition of the fastest recorded growth in accounting and payroll clients and professional staff in the outsourcing sector, together with other factors relevant to the award category.
Then, PS has also been voted 2015's "Most Unique Services Provider – CEE" , by a 29-strong jury comprising BPO, SSC, GBC and related service professionals from throughout the region
Read more… 
About CEE Shared Services and Outsourcing Awards organised by BizPolska, publishers of BizPoland magazine. The awards are dedicated to recognising excellence in the sector. Read our relevant news: Process Solutions won "Most Unique Services Provider – CEE" award
About Outsourcing Stars
Outsourcing Stars is organised by Pro Progressio Foundation, in conjunction with outsourcingportal.pl and Outsourcing & More magazine, supporting the development of the outsourcing sector in Poland. The main objective is to identify and honour the fastest growing outsourcing businesses and supporting organisations  Read on: PS Group is "Outsourcing Stars of 2014" in Accounting and Payroll